The UC Bearcats overcame a sluggish start to beat their Oxford rivals 35-13 for the 14th time in a row on Saturday. The Bearcats move to 2-1 on the season. It might be hard to believe but the Bearcats still trail the Redhawks in this series 59-58-7 meaning that a win next year in Oxford puts the Bearcats even with the Redhawks. I like our chances.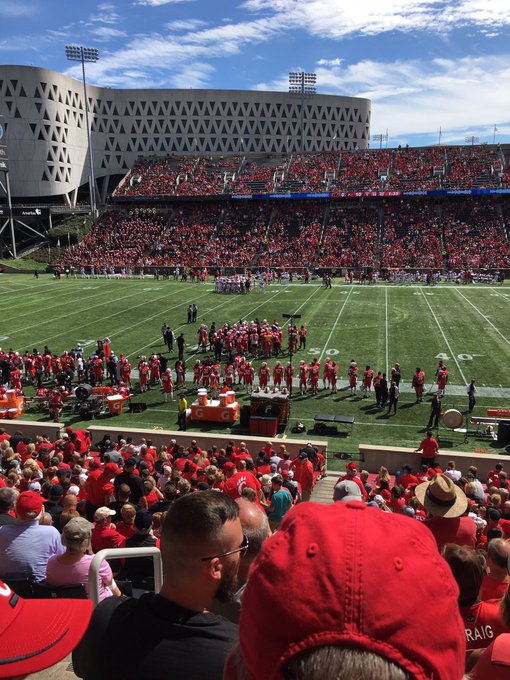 Miami (OH) jumped out to a 10-0 lead after the first quarter and the Bearcats didn't have an answer. QB1 Des Ridder couldn't quite dial in the passing game in the first half and the twitterverse was up in arms over it. Thankfully they're not the coach and whatever Fickell said at halftime worked because Ridder came out on fire. No dramatic walk off INT or needed. The Bearcats got it done.
Can we take a second to watch the beautiful play unfold. Ridder throws an absolute dime to Geddis on this play. Say what you will about tough first half for Ridder but he shredded Miami in the 3rd quarter. Geddis is in stride and Ridder makes the pass look easy. Let. It. Fly.
That play officially took the wind out of Miami's sails then Warren put the nails in the coffin with this one.
I love the block Ridder tries to throw for Warren. I love that Warren refuses to go down takes it the distance. Game.
When it was all said and done Ridder finished with with a QBR of 44 on 14 of 30 passing for 186 yards, 2 touchdowns and an INT.
Warren rushed 12 times for 113 yards and was the second leading receiver with 5 catches for 45 yards.
Thomas Geddis caught only 1 pass but he made it count for 51 yards and 6 points.
My two players to watch before the game was Alec Pierce and Darrick Forrest Jr. Pierce only had 2 catches for 17 yards. Forrest led the defense with 9 tackles.
The crowd at Nippert was respectable, especially coming off of last week's blowout loss. The fans started to head for the exits early in the 4th, I can't blame them, I did too.
The Bearcats have a bye next week then head to West Virginia to take on Marshall.
Be sure to subscribe to GoBeercats to get the latest posts first and follow along with GoBeercats on Twitter, Untappd, Instagram, and Facebook!