Here are some random thoughts from the two games this past week against UCF and Wichita State.
UCF
In the Bearcats 4th OT game in a row the Bearcats couldn't get it done against the Knights.
The Bad
-The defense was lacking
– The rebounding effort to close out the half had Coach Brannen quite perturbed and rightfully so.
– The turnovers were absolutely awful. 21 total, Jarron had 7! Scott 4, Vogt, Williams, Adams-Woods, and Diarra each had 2.
– The Bearcats have failed to put away lesser teams all year, add this one to the list of ones that should have been a W.
The Good
– Jarron's passes are on point and look effortless.
– Tre Scott had another monster game with 22 and 21, he's a monster
– Jaevin Cumberland refused to lose in overtime hitting big shot after big shot to send us into Double OT
– Tre led the way with 22, Jarron had 19, Williams 17, and Jaevin scored 12.
– In the 2OT Scott, Williams, and Jarron played 47, 46, and 45 minutes respectively.
How did we lose that game, at home?
The 89-87 loss moved the Bearcats out of first place in the AAC.
Wichita State
After that UCF loss a lot of brackets had the Bearcats MIA. A win over a solid Shockers could only be a step in the right direction. Luckily, I was in the house to experience this one. It didn't disappoint. The Bearcats managed to take care of business in regulation this time winning 67-64, in what could have easily been the fifth OT game in a row for the Bearcats.
The Bad
– The turnovers didn't go away this game, although better they still had 14.
– Where was the offensive rebounding? Someone put out an APB. The Bearcats managed only 7 against the Shockers, in comparison they had 21 against the Knights the game prior.
– Big man Chris Vogt struggled again, scoring just 9 points in his last two games with only two in against WSU.
– Williams had an off game with zero points on just 4 shots.
– Jarron again had 6 turnovers by himself.
– There were so many questionable calls it made my head spin. Add in the late whistles to make matter worse.
The Good
– The 1-3-1 was effective on Sunday afternoon. Mamadou played the top of that zone like a mad man and caused problems.
– Zach Harvey made his presence known in that zone too. He also added a play to his highlight reel with a crazy and 1 layup. He finished with 8 points.
– The defense all together was more intense and more cohesive than the last game.
– Jarron was Jarron scoring 24 points, none better than this one.
– The next to last play call from Gregg Marshall was suspect. If I'm a Shockers fan I'm asking for an explanation. With about 4 seconds left the Shockers throw a full court pass that was easily intercepted pretty much uncontested ensuring more foul shots for Jarron.
The Big Dance
Are the Bearcats going dancing? Honestly, I don't know. Some bracketologists have us as a 10, others a 12, others not in it at all. A win at Houston could put us over the edge but another slip up would be devastating. You don't need me to tell you that.
As we continue to live life on the bubble let us not forget the mid major. A lot of the smaller conferences don't have autobids and have to win the their conference tournament to get in and every year a scenario like this plays out:
Scenario: The West Coast Conference – Gonzaga is clearly the best team in that conference, right now they're 27-2, 13-1. According to Lunardi they're a 1 seed. BUT come conference tournament time what if they lose and Pacific or Pepperdine win the WCC. Now they're stealing from the bubble teams and it happens almost every year.
Apply this scenario to any mid major conference.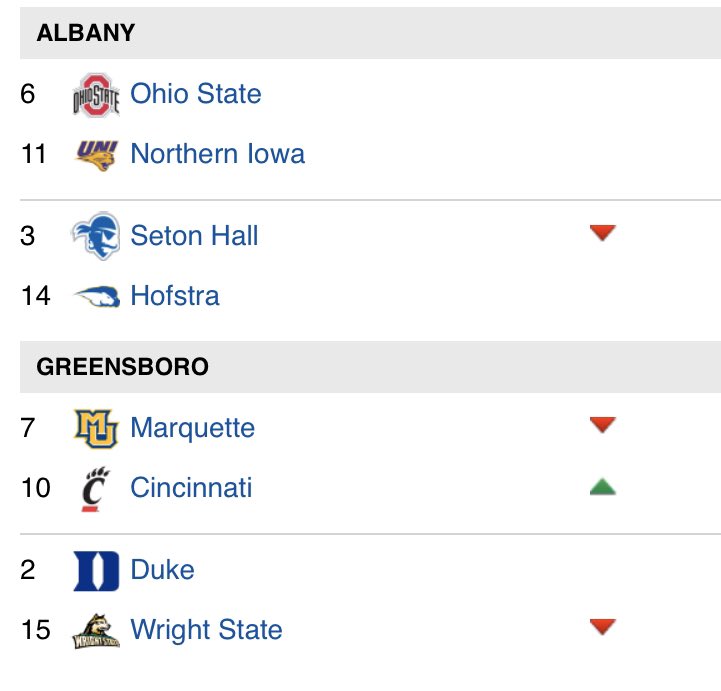 Go Bearcats! Beat Houston!